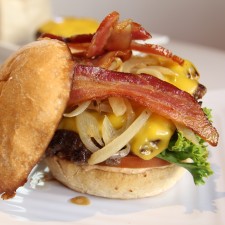 San Diego, CA, May 26, 2016 (Newswire.com) - ​​Burger Lounge is excited to open their twentieth Southern California location in Del Sur on May 26th, 2016. When you picture the perfect tranquil Southern California paradise, look no further than Del Sur. The intimate neighborhoods and friendly pace of living make up a unique, family-oriented community in the hills of Northern San Diego.
The new opening is an exciting new move for the San Diego-based restaurant group. Historically, Burger Lounge has always sought out urban locations, like La Jolla, Coronado, and Little Italy. Now, they have taken that commitment to healthy and delicious grass-fed burgers to the more intimate neighborhood centers where so many Burger Lounge fans and their families live.
J. Dean Loring, founder and CEO of Burger Lounge Restaurants, Inc.: "At the heart of our brand is a spirit of community and a love of family. In that regard, Del Sur is our perfect match: real food for real communities."
Burger Lounge sets the standard for the classic American burger by maintaining an uncompromising commitment to the natural flavors that made it an American culinary icon.
Each dish starts with the philosophy that each ingredient should stand alone. Burger Lounge recognizes that superior flavor and freshness come from ethical and sustainable growing practices, driving their sourcing process from the ground up. Organic and non-GMO ingredients form the basis of the group's culinary efforts, sourced from responsible growers that ship directly to our kitchen.
"Establishing meaningful partnerships with our grass-fed beef ranchers and other suppliers has been a part of our model from the beginning," says J. Dean Loring. "We source our grass-fed beef from family ranchers whose best practices and authenticity result in truly fabulous beef flavor. We know where and how the cattle are raised, what they eat and how they are treated. It is a humane process and we think that matters."
The signature 100% grass-fed beef Lounge Burger, the Classic Burger, the free-range Turkey Burger, and the organic Quinoa Burger are all mainstays on the menu, while a rotation of limited offerings like Lamb or Bison burgers keep things interesting. The menu also features an ode to the classic fish sandwich – the pan-fried Alaskan Cod, with shredded lettuce, tomato, and house-made tartar sauce. Each burger is handcrafted from high-quality, single source meat, seared to perfection on a flat top grill, and served on the signature Burger Lounge bun, made from whole wheat flour with a touch of molasses. Paleo-inclined? Burger Lounge also serves their burgers lettuce-wrapped, on a gluten-free bun, or Paleo-Style, with grilled zucchini and jalapeno relish.
Guests can enjoy their burgers with fresh-cut French Fries and Onion Rings. Made fresh to order, the Fries and Rings can be enjoyed separately, or together in the Half and Half. All sides are served with house-made dipping sauces, from the tangy Ranch dressing, to the smoky Barbecue.
Burger Lounge also has a menu of organic salads, made with a wide variety of fresh and flavorful vegetables. The Fresh Vegetable Salad features a blend of romaine, mizuna, roasted corn, red onions, carrots, tomatoes, cucumbers, feta, served with the house-made lemon basil vinaigrette. Our newest salad, the Market Chop Salad, features shaved Brussels sprouts, romaine, kale, red onion, corn, and daikon sprouts, topped with gorgonzola​ cheese and house-made Dijon vinaigrette.
Looking for something sweet? A selection of hand-dipped shakes and floats rounds out the menu. An adventurous guest can step outside the box, and substitute the more traditional root beer for any of our cane-sweetened, fair-trade soda flavors.
Burger Lounge Del Sur will also reflect the brand's focus on quirky design that refuses to compromise on sustainability. Each restaurant incorporates earth-friendly business practices, which are reflected in everything from the tabletops made from recycled water bottles, to the converted waste cooking oil that powers the delivery trucks.
Source: Burger Lounge Restaurants
Share: