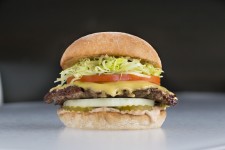 ROSEVILLE, Calif., December 10, 2018 (Newswire.com) - Burger Lounge, the California restaurant group known for grass-fed beef burgers, organic cheeses and their eco-friendly, transparent food sourcing, has announced their newest restaurant will be opening in The Fountains at Roseville on December 10th, 2018.
"We're bringing a great burger you can feel better about eating to Roseville," says J. Dean Loring, Burger Lounge Founder/CEO. "The food culture in the Sacramento area is a fantastic fit for us, as people here appreciate honest, sustainable, tastefully-sourced food."
We strive to do a common thing uncommonly well, resulting in a burger that isn't just craveable, but one you can feel better about eating.

J. Dean Loring, Founder and CEO of Burger Lounge
The restaurant's concept elevates familiar food to new heights by using premium ingredients sourced specifically for taste.
"Our food is simple and gimmick-free, but simplicity is complicated," says Loring. "We strive to do a common thing uncommonly well, resulting in a burger that isn't just craveable, but one you can feel better about eating."
The Roseville location opens on the heels of Burger Lounge's first Sacramento site at Downtown Commons and marks the group's first foray into the suburbs surrounding the capital city. A Northern California native, Loring cites the special relationship Sacramento has with agriculture as one of the reasons for continuing Burger Lounge's growth in the region.
"Sacramento takes a lot of pride in conscientious food production and practices because so much of it happens around here," says Loring. "Bringing Burger Lounge to the area I grew up is a fantastic feeling, but more than that, being in a place that shares our values helps us feel right at home as we continue to expand."
Burger Lounge carefully crafts offerings using ingredients from like-minded suppliers with transparent sourcing and taste as their top priorities. "Part of our ethos is to constantly build relationships with suppliers who share our values," says Loring. An example is their partnership with Rumiano Cheeses, with whom they've co-created a proprietary organic American Cheese blend.
The menu includes burgers and combo meals ($7.95 - $16.95) boasting fresh, 100% grass-fed, grass-finished American beef, free-range turkey, organic quinoa, fresh chicken, and sustainable Alaskan cod.
It also features salads that are made with numerous organic ingredients and house dressings. Fresh-cut fries and onion rings are on the menu as well, in addition to craft beverages, local beer and wine, hand-scooped milkshakes, malts, and floats.
Guest convenience is at the forefront of Burger Lounge Roseville. Online ordering will be available immediately after the grand opening, along with third-party delivery via UberEats and Postmates. Door Dash delivery will be available within 30 days of the opening.
The restaurant design aesthetic reflects the brand's "less is more" philosophy. It's fresh, modern, efficient, and forward-thinking. Created in partnership with Studio MYID, it features sustainable elements, such as tables made from recycled water bottles, in conjunction with a warm, hospitable atmosphere.
The Roseville opening marks the fourth Burger Lounge to open in Northern California this year, joining restaurants in downtown Sacramento, Campbell and Walnut Creek.
Burger Lounge Roseville will be located at 1198 Roseville Pkwy., Roseville, CA 95678. The restaurant will be open daily for lunch and dinner. Additional information and menu details are available at http://www.burgerlounge.com/.
About Burger Lounge:
Established in 2007, Burger Lounge was founded by J. Dean Loring and Mike Gilligan with the underlying philosophy that superior flavor and freshness come from ethically and sustainably-grown ingredients that are primarily organic, non-GMO and sourced from responsible growers and family ranchers. Each restaurant incorporates earth-friendly business practices reflected in such things as tabletops made from recycled water bottles and converted waste cooking oil that powers delivery trucks. There are currently Burger Lounge locations in Los Angeles, San Diego, Orange County, the San Francisco Bay area, Sacramento and Las Vegas.
Source: Burger Lounge
Share: